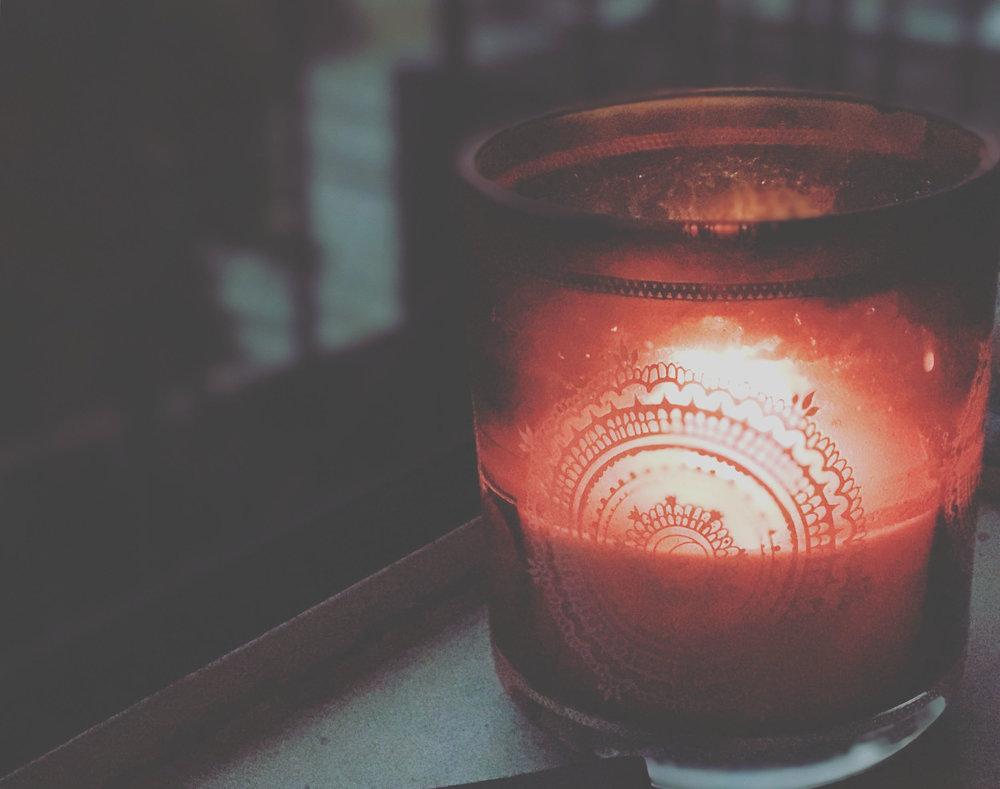 Hygge: The Indigo Hours
It's still dark this morning.
Outside, a soft rain falls. Inside, I'm snuggly in my first sweater this season and the coffee is rich and warm. In the holy hush of pre-dawn, meeting myself and the Divine to usher in the tender mercy of a new day, candle lit, my home still and expectant, anything feels possible.
As the days shorten and shadows lengthen themselves across the earth I'm reminded of a beloved concept created by the Danes—the art of Hygge, or the intentional cultivation of holistic warmth and comfort for body and soul during the darkest time of the year. A journalist from the UK
writes,
"...hygge is so hallowed in Denmark that it's also considered a cure for the common cold or flu, with doctors regularly prescribing "tea and hygge" in lieu of Lemsip (hardy Vikings don't do over-the-counter medicines). Danes will even hygge on the move: I once passed a camper van on the motorway with lighted candles in the windows (this is probably illegal, but Danes aren't too hung up on health and safety: see "hardy Vikings")."—Helen Russell
A Danish woman
comments
: "Hygge is a deep sense of cosy that can originate from many different sources. Here is a good example from my life—a cloudy winter Sunday morning at the country house, fire in the stove and 20 candles lit to dispel the gloom. My husband, puppy and I curled up on our sheepskins wearing felt slippers, warm snuggly clothes and hands clasped around hot mugs of tea. A full day ahead with long walks on the cold beach, back for pancake lunch, reading, more snuggling, etc. This is a very hyggligt day. In the US, one might grab a cup of coffee to go, or sit in a cafe looking at a laptop. Hygge is a bit more ritualized. Here in DK, a cup of coffee is more likely to take a lot more time, involve conversation and a couch."—Natasha Husted
A full-bodied embrace
There are few pleasures in life that compare to snuggling with loved ones by the fireside, fingers wrapped around a mug of rich Masala chai, toes tucked into something soft and warm. This is hygge, but hygge itself is virtually impossible to define. It includes a sense of togetherness, of sacred, of finding beauty, of creating home, of connection—or, to me, a nourishing of the soul during a season of immense cold and dark. Before knowing hygge was a "thing" I found great solace in creating it my own way—softening the lights, layering my home with soft blankets, thoughtfully placing candles, sliding a squash into the oven to roast and surround us with mouthwatering, sweet warmth. Or through journaling, writing love letters or snuggling with coffee and conversation with a dear friend. It's such a warm, full-bodied embrace of what is; being the one to slip comfort into uncomfortable. It is living beauty which fills the senses and sustains the heart. It is a deep sigh saying, "It is well with my soul."
While hygge rises from a need to endure bleak, impossibly cold and dark winters, this is the spirit I long to nurture all year through living beauty—being present to beauty, living it daily, following & offering it to all whose paths intersect with mine.
I write this and yet fresh in my heart is how often I don't do this, how just the other day someone pushed my buttons and I responded with an irritation that surprised me & brought me to tears over the ugliness that spun me out of myself and into a person I don't recognize. My heart broke. I long to be a sacred space that counteracts the bleak & desolate winter of all empty eyes & hungry hearts. I long to live beauty—to be a walking, breathing, embracing channel for a kind of beauty that is alive, encompassing, poured out, reached out, touching and unafraid. It is beauty that sees with eyes laden with eternity. It is beauty that gazes directly into the dark to find God quietly working in the indigo hours.
It is constant, unglamorous, frizzy-haired, red-cheeked, tear-stained, always-beginning-again work.
Yet, it is holy work. It is a sacred willingness to dwell within disenchanting spaces and awaken ourselves to a living, transcendent beauty that can only be found in the barren and the bleak. We can make it through a long, dark night. We can survive the wintering of a soul. It may not be glamorous. It may not be conventional or understood. We may not have the resources we desire or the energy we long for. But we can hold out our arms. We can choose not to look away. We can all be soft, sacred places for someone to come home to.